Outdoor GRP electrical enclosures
​Electrical enclosures in Ireland can be subject to harsh conditions like wind and rain. This can in turn reduce the reliability, lifespan and performance of the electrical and other equipment. This is why Irish companies have been using Tricel's GRP electrical enclosures for over 40 years. 
Ideal for outdoor usage, GRP enclosures keep dust, dirt, and water out and ensure your equipment is kept safe.
Made of Glass Reinforced Polyester (GRP), they are extremely hard-wearing, weather-resistant, durable, and great value for money. They are ideal for Irish weather as unlike metal or steel enclosures, they will not corrode over time.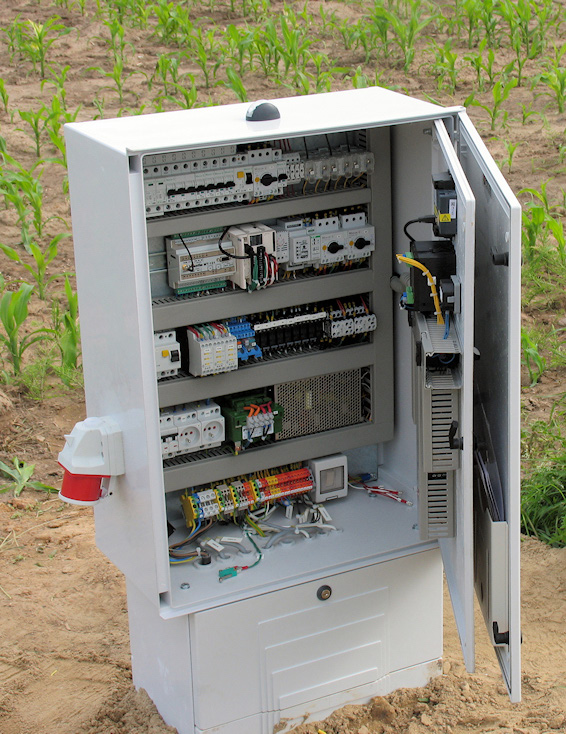 What are outdoor electrical enclosures?
An industrial or electrical enclosure can be used indoor or outdoor to protect your valuable machinery and equipment. Some examples include a compressor for a wastewater treatment plant, housing components for electric gates and auto barriers, housing CCTV equipment, dust extraction units and so much more.
Our Enclosures come with a triple lock system supported by non-corrosive vertical bars and are also:
Excellent fire rating

High impact resistance (up to 20 Kilojoules).

Suitable for use in temperatures ranging from -30ºC to +120ºC.

UV protected.
​
What are the types of GRP outdoor enclosure?
Tricel industrial outdoor enclosures/grp kiosks come in many different shapes and sizes to meet all of your equipment needs. Single or double door units can be column mounted ensuring that no matter the application, we can offer a solution. Depending on their application they can be:
These freestanding structures can house several racks to store equipment. They come with a Polyester back mounting plate and are ideal to hold large electrical components.
Plinths are used as a mounting base for outdoor enclosures. They also provide access for ducts and hockey sticks. Read more…
Wall-mounted enclosures, also named wall boxes or meter boxes are ideal for smaller components and electrical meters. 
Pole mounted meter boxes or cabinets are ideal for street lighting. Tricel's Pole Mounted meter boxes come with a Pole Mounting Bracket.
The features of these electrical enclosures include:
GRP features:
Constructed from GRP.

Will not corrode, weather-resistant to IP55 grade protection.

Strong and robust 
Non-conductive:
Ideal for protecting internal electronic communication.

Double insulation and electrically non-conductive (1000V).

Suitable for low-voltage switchgear and control gear assemblies, meters, compressors, etc.
Strong & Durable:
High impact resistance up to 20 Kilojoules (IK10).
Self-extinguishing:
Superior fire rating, constructed from halogen-free and self-extinguishing material.
Colour, paint & cleaning:
Easily cleaned and can be painted.

Supplied in light grey colour (Ral 7035).
Doors, openings & security:
Supplied with hinges, lock and key.

Door hinges on right, 180º opening.

Triple lock system supported by non-corrosive vertical bars.
Temperatures & UV protection:
Suitable for use in temperatures ranging from -30ºC to +120ºC.

UV protected.
These enclosures are supplied fully assembled, complete with backboard, and triple lock system.
Certifications and Compliance to Standards of the Outdoor GRP Electrical Enclosures
Our GRP electrical enclosures are compliant with the international standard for empty enclosures as applied to low-voltage switchgear and control gear assemblies (IEC 62208:2011).
What do you need to install an outdoor GRP electrical enclosure?
All our GRP enclosures and meter boxes/cabinets (floor standing, plinths, wall-mounted and pole-mounted) come assembled. You might require a range of tools to facilitate the installation and to set up the equipment inside the enclosure, such as brackets, screws, screwdrivers, and drills to name a few. 
Backplates are provided with all our enclosures and a pole mounting bracket is also supplied for the pole-mounted option. 
What are IP Ratings for enclosures?
IP (Ingress Protection) rating is an international standard in place to measure the degree of protection for mechanical casings and electrical enclosures against intrusion, dust, accidental contact and water. 
The IP ratings are made of two digits, the first digit refers to the protection against solid particles / hazardous parts (electrical conductors, moving parts, etc) and the second digit indicates the protection from liquid ingress (sprays, condensation, etc).
View our video "IP 44 testing of Meter Boxes"
Get in touch with us today if you have any questions regarding our range of GRP enclosures. They represent an effective solution for electrical enclosures in Ireland.