The Latest Headlines from Tricel IE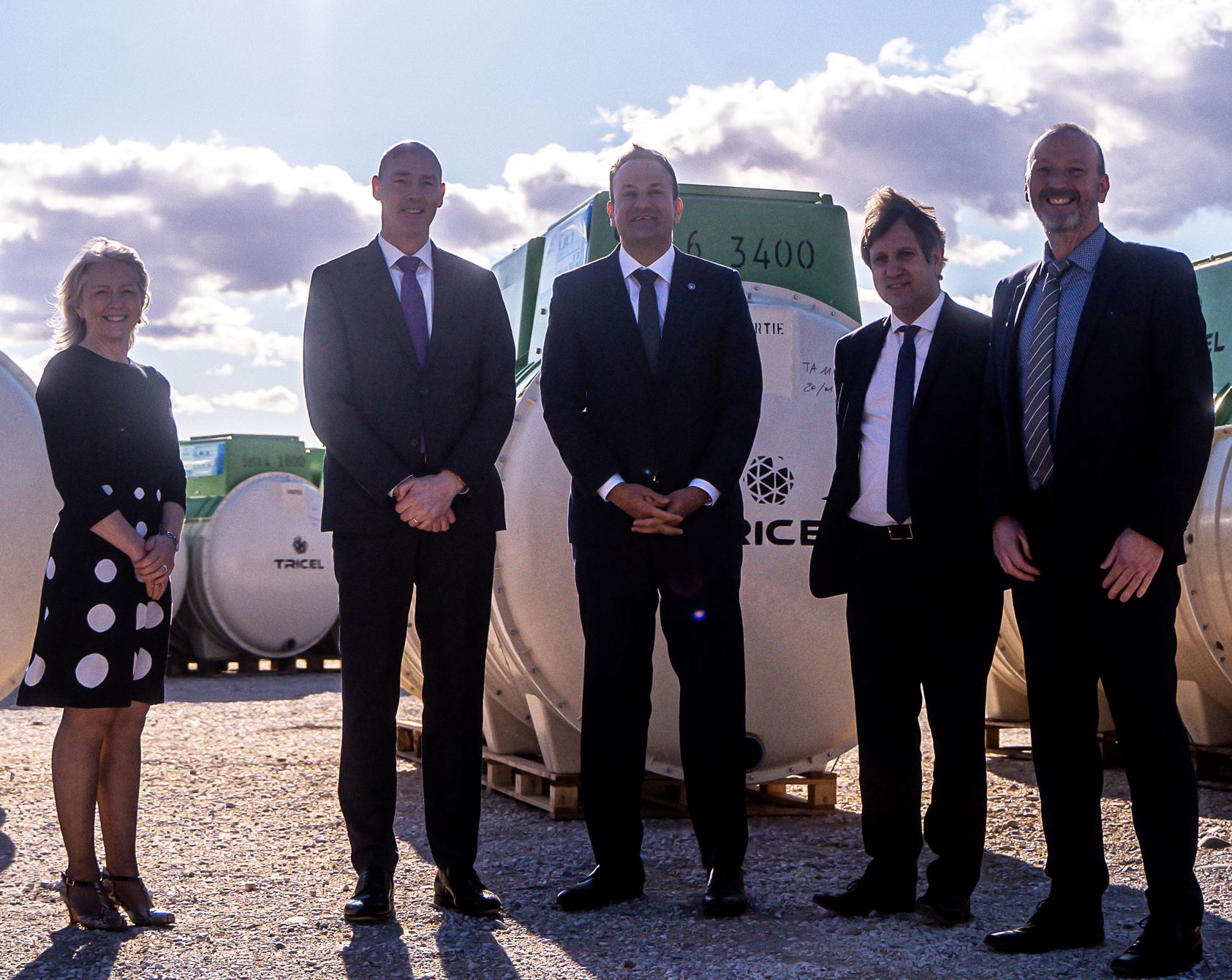 Innovation,

g

rowth &

being l

ocal;

Key factors to

Tricel's

continued successful expansion in France
TRICEL AVIGNON, February 15, 2022 
The Tricel Group, headquartered in Co Kerry, Ireland, was honoured to have An Tánaiste, Leo Varadkar T.D., pay a visit to Tricel Avignon, one of the company's overseas manufacturing sites. The visit marks the company's expansion in the French market, which will see its operations double over the coming five years and create an additional 60 jobs locally. Mr Varadkar's presence reflects the Irish government's continuous commitment to supporting Irish businesses internationally. 
Mr Thierry Lagneau, Mayor of Sorgues, Anne Lanigan and Patrick Torrekens of Enterprise Ireland and Owen Feeney from the Irish embassy were also in attendance. 
​
Mike Stack, CEO of

Tricel

Group, said:
"It is with great pleasure that I welcome An Tánaiste and Minister for Enterprise, Trade and Employment, Leo Varadkar T.D., to our site here in Sorgues, just outside Avignon. I would also like to welcome the Mayor of Sorgues, Mr Thierry Lagneau, along with Anne Lanigan and Patrick Torrekens of Enterprise Ireland and Owen Feeney from the Irish embassy, whose ongoing support over the years has contributed significantly to the operations we are so proud of.   
Back in 2011, when we made the bold decision to invest in France, we could not have predicted how successful we would become. Through the dedication and hard work of the teams in Ireland and locally here in France, we have become a market leader in our field. Not only that, but we continue to focus on our growth here in France, most recently through our acquisition of AJ Environnement. 
I would also today like to recognise our distributor network, who over the years have in no small part, built this success with us. They have been and continue to be true ambassadors of what the Tricel brand stands for – innovation, quality & heritage.   
 While the past two years has been anything but ordinary, with the CoVid19 pandemic raging across the world, we have continued, along with our distributor network, to remain focused on growth and to deliver the standard of product and service synonymous with the Tricel brand."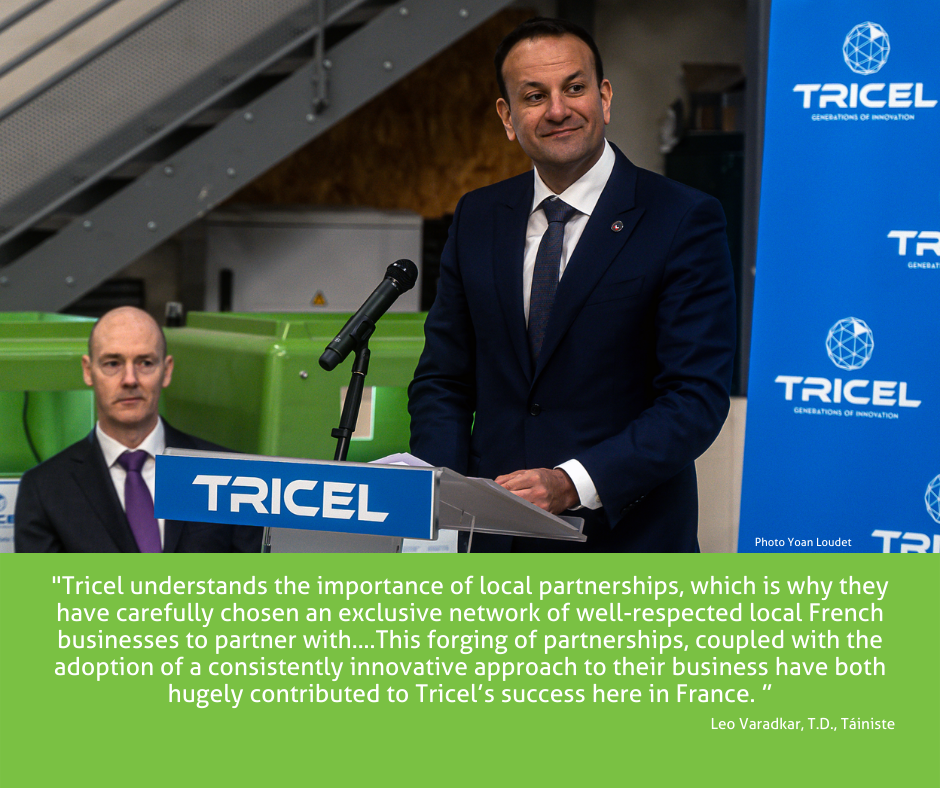 Leo Varadkar, T.D, Tánaiste said:
"Tricel understands the importance of local partnerships, which is why they have carefully chosen an exclusive network of well-respected local French businesses to partner with. An innovative mindset, reflected again in their digital strategy which was born as a result of disruption caused by Covid 19, enabled Tricel France to launch their L'Expo Virtuelle – their Virtual tradeshow this year. This forging of partnerships, coupled with the adoption of a consistently innovative approach to their business have both hugely contributed to Tricel's success here in France." 
Mayor of

Sorgues

,

Mr. Thierry

L

agneau

said:
"It is an absolute pleasure and also a tremendous honour for our city to welcome Mr Leo VARADKAR, Tánaiste and Minister for Enterprise, Trade and Employment. I am delighted that you have chosen to visit Sorgues as part of this Irish Trade Mission and celebrate the successful relations between our two countries. 
We can say that it is only on the rugby pitch that we are adversaries. Within the spiritual cradle of rugby, Ireland is renowned for its beautiful game and its respect for the values ​​of sport. While this is not always enough to win (I won't say more!), these are the same values ​​that are so appreciated in the economic sector and make companies strong. 
By developing its market share in France, Tricel has transformed the Sorgues operation and represents a fine example of European success.  
On February 6, 2019, during the official opening of the Tricel operation in Sorgues, in the presence of Mike Stack, CEO, I had the opportunity to highlight your principles of innovation. Exactly three years later, these principles remain unchanged. With the importance of sustainable development and new regulations regarding wastewater treatment systems, your market solution fits naturally into an approach to protecting the environment. 
I congratulate you on this Sorgues success which, with the presence of An Tánaiste, testifies to in a very solemn way, is also a source of pride for Ireland." 
Regional Director Eurozone,

Enterprise

Ireland

,

Anne Lanigan

said:
"Enterprise Ireland would like to congratulate Tricel on its continued growth and success in the French market. Their presence in France over the past 10 years has been strengthened thanks to the close partnerships they have forged with their exclusive French distribution network. The very recent acquisition of their partner AJ Environnement reinforces their commitment to the French market and broadens their direct presence in France.  We are delighted to assist Tricel on their development journey here and often refer to them as a role model for other Irish companies approaching France".