Tricel future proofs its growth strategy focusing on sustainability & innovation
Today marks another important milestone for the Tricel Group, headquartered in Killarney, Co Kerry. An Taoiseach, Micheál Martin, visited the site to launch Tricel's sustainability and expansion programme. Mr Martin's presence is reflective of the government's ongoing commitment to supporting growth within Irish companies in a sustainable way to protect future generations.
The CEO of Enterprise Ireland, Mr Leo Clancy, CEO of SEAI, Mr William Walsh, Marie Moloney, Mayor of Killarney, along with other local dignitaries and representatives were in attendance.
Ireland's largest combined Solar & Heat Pump Installation in Ireland
Today the company celebrates the completion of Ireland's largest combined solar & heat pump installation at its 100,000 sq. ft. facility in Killarney. In 2021, amid the Covid 19 pandemic, the company began this ambitious project by installing nearly 2000 solar panels, six invertors and 3 Heat pumps. The project was another example of the company's firm commitment to protecting our local and global environment by reducing the company's overall energy, waste and emission levels. Working closely with Enerpower, a Waterford based company, Tricel were able to deliver this project and move closer to realising its sustainability goals.
The total reduction in emissions from this combined Solar PV and Heat Pump project equates to 357,800 kg of CO2 per year, equivalent to the emissions saved from powering 300 houses every year. The 750kw solar panel system on the roof of the Killarney manufacturing site provides 25% of our electricity through solar per year, while the heat pumps remove our oil dependence by 90%.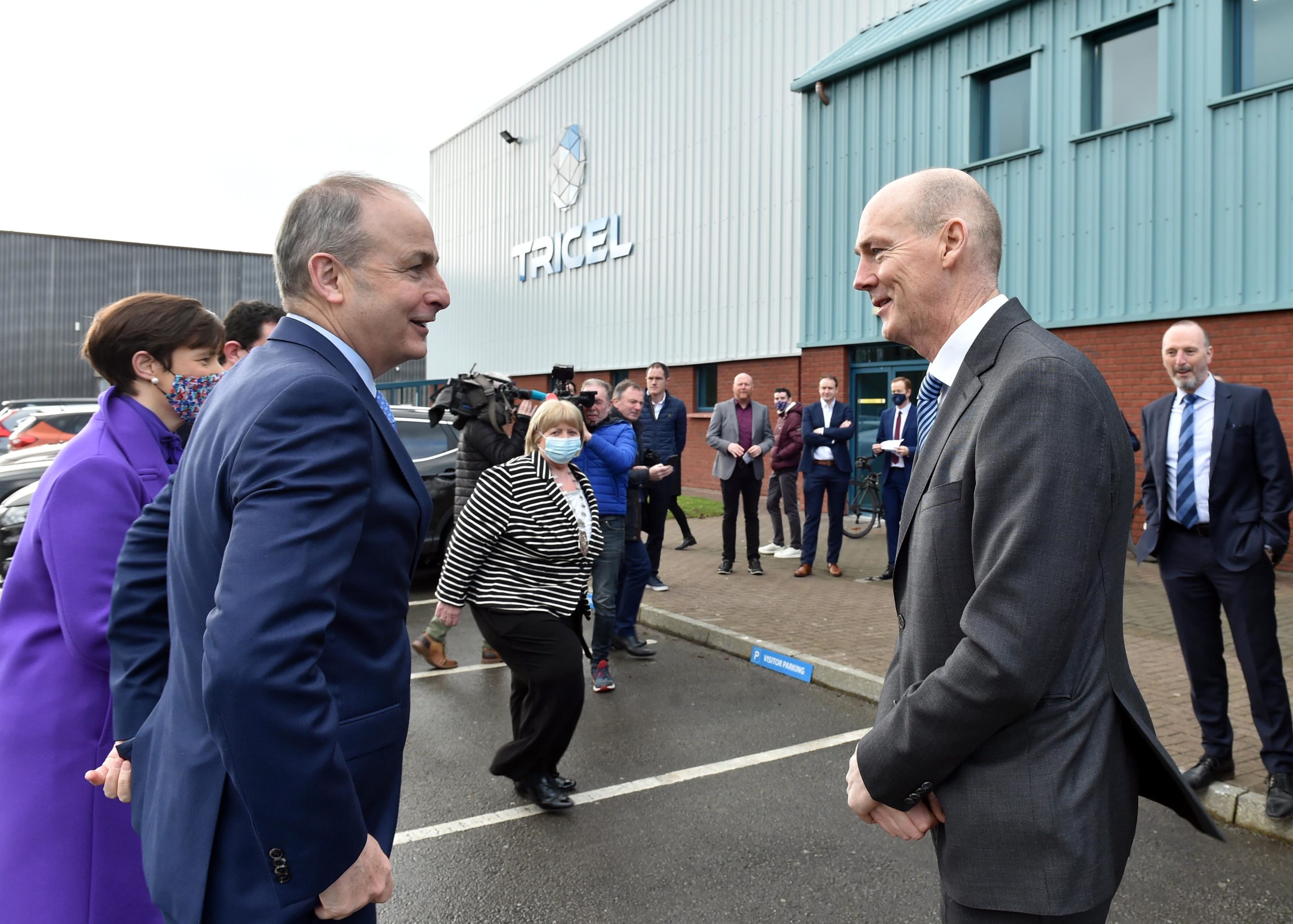 An Taoiseach, Micheál Martin pictured with Mike Stack, CEO the Tricel Group
Expansion & Growth: 200 new jobs
The Tricel Group's success over the past number of years is driven by a relentless focus on innovation. In 2017, the company began its robotics programme at its site in Killarney, which further strengthens its commitment to manufacturing excellence and quality. This programme was quickly followed in 2018 by installing a state-of-the-art SMC machine & plant room, which is now the main provider of raw materials to its manufacturing sites in Europe. Automation and robotics will continue to be a key focus for the Group into the future.
The continued growth and success of the company have also seen the creation of over 290 new jobs in 2021 in Ireland, the UK and France. Currently, skilled positions are available at the company's headquarters in Killarney; these are in areas such as Purchasing, Marketing, IT, Manufacturing, Engineering, Sales and Business, as well as Graduate and Undergraduate positions.
With the company's trajectory of growth and ambitious plans, it estimates a further 200 new positions in the coming year.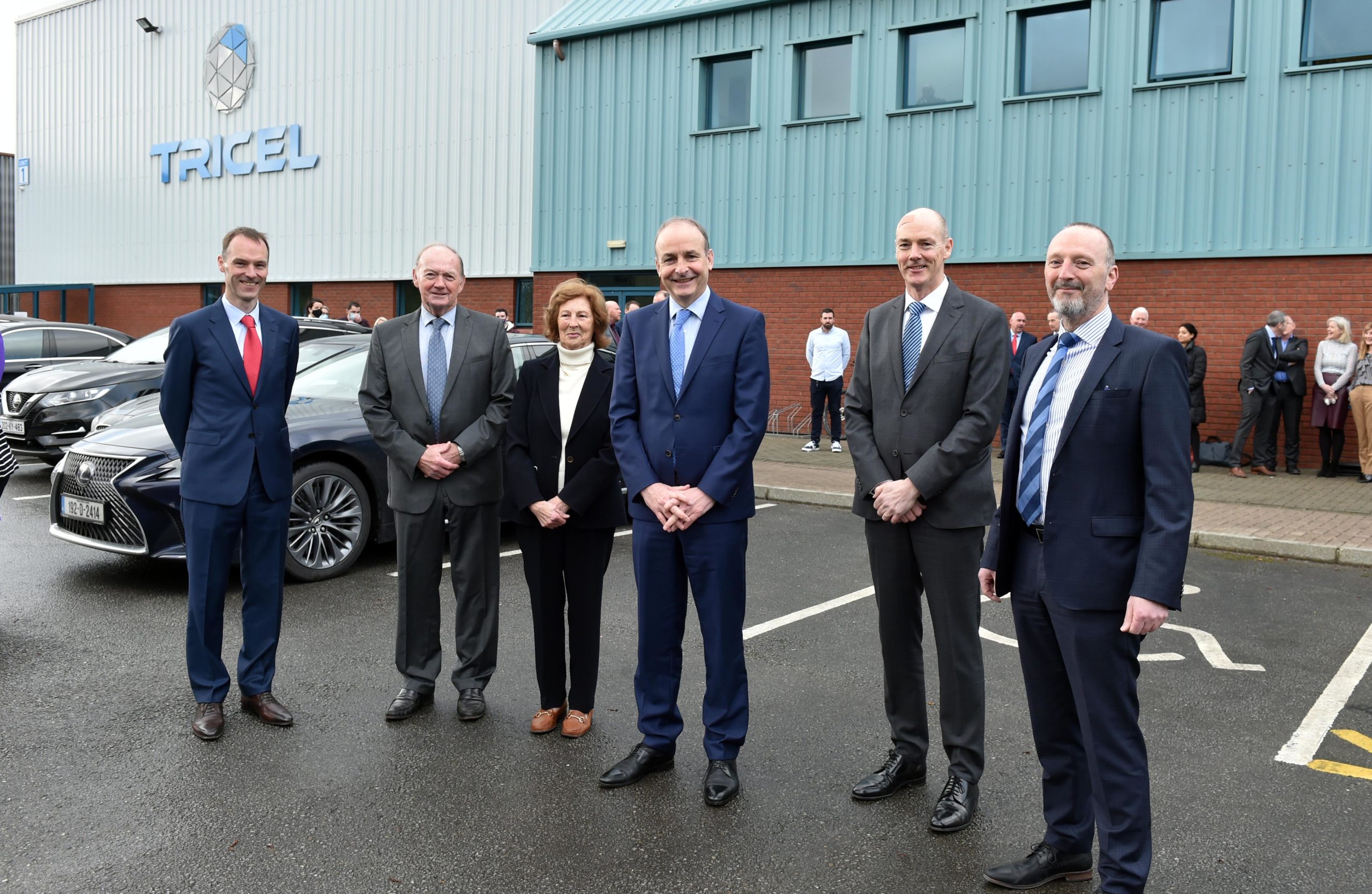 Anne & Con Stack, founders of Tricel in 1973, pictured with Micheál Martin, T.D., Taoiseach along with Stack family members on his recent visit to the European HQ located in Killarney
An Taoiseach, Micheál Martin said:
"I am delighted to be here today to launch the Sustainability and Expansion programme in Tricel. A family-led company with nearly 50 years of experience here in Killarney, sustainability is at the core of Tricel's operations. 
Climate change is a threat to all of us and to our way of life, and the Government I lead is serious about Ireland being a leader in Europe and in the world in the great effort to tackle it.
I want to congratulate Mike Stack, the Stack family and all the staff on their ambitious project, which is part of that leadership. Their determination and focus will ensure their future growth plans, and the creation of more sustainable jobs both in Ireland and abroad."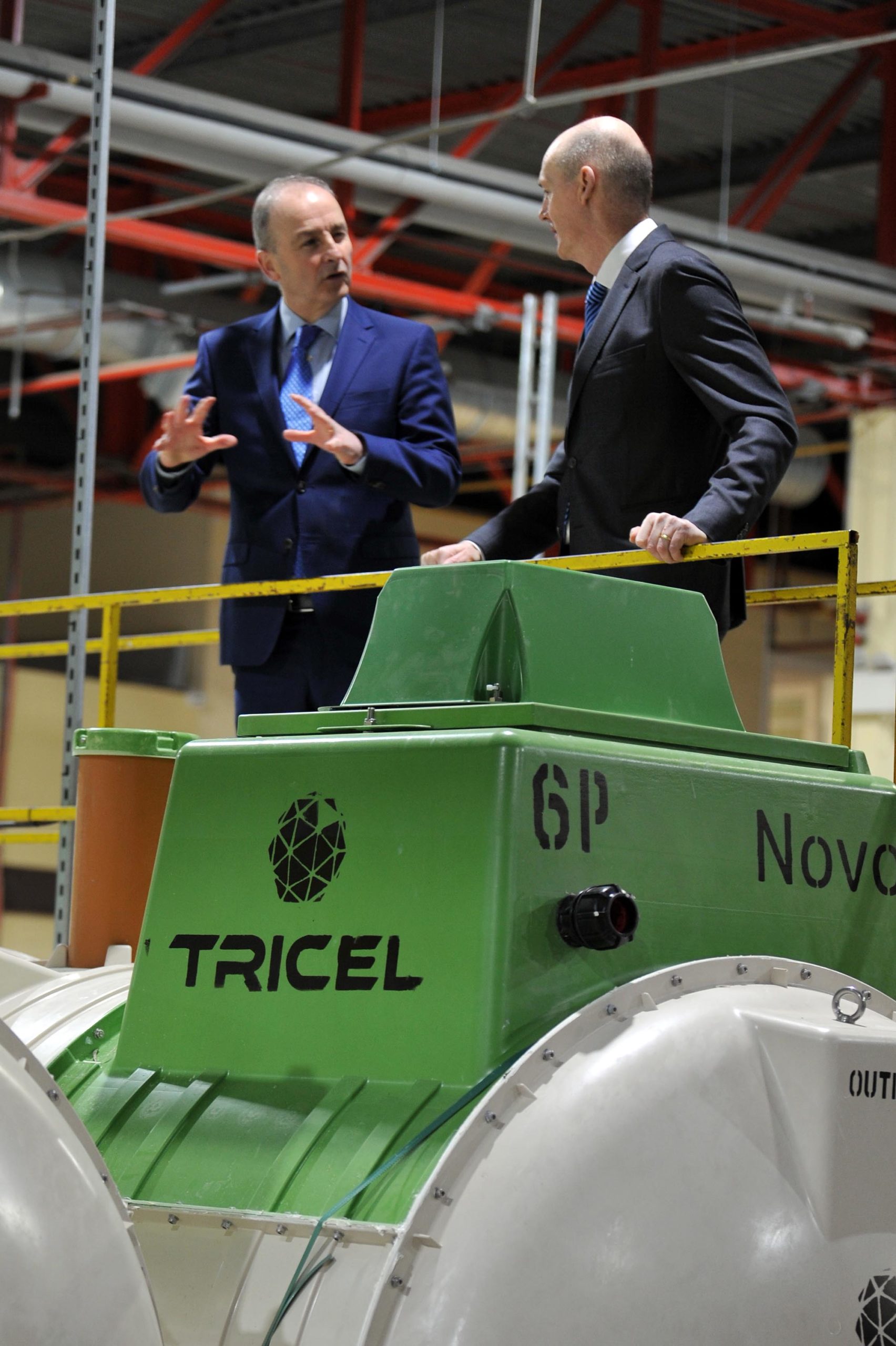 An Taoiseach, Micheál Martin pictured with Mike Stack, CEO the Tricel Group
Mike Stack, CEO of Tricel Group, said:
"Firstly, I'm delighted to have this opportunity to welcome An Taoiseach, Micheál Martin, Marie Moloney, Mayor of Killarney and our local representatives to the launch of our sustainability and expansion programme at Tricel headquarters in Killarney. I would also like to welcome Leo Clancy, CEO of Enterprise Ireland, William Walsh, CEO SEAI, and representatives from Enerpower. As an Irish company, collaboration with organisations like Enterprise Ireland, SEAI and Enerpower is key to reaching our full potential as a successful company in Ireland, United Kingdom & Europe.
I am immensely proud of what we have achieved over the past 50 years as a family-led company. The success we have as a company is fuelled by the dedication and commitment of our employees, who play a pivotal role in the initiatives which underpin our growth, namely innovation and sustainability.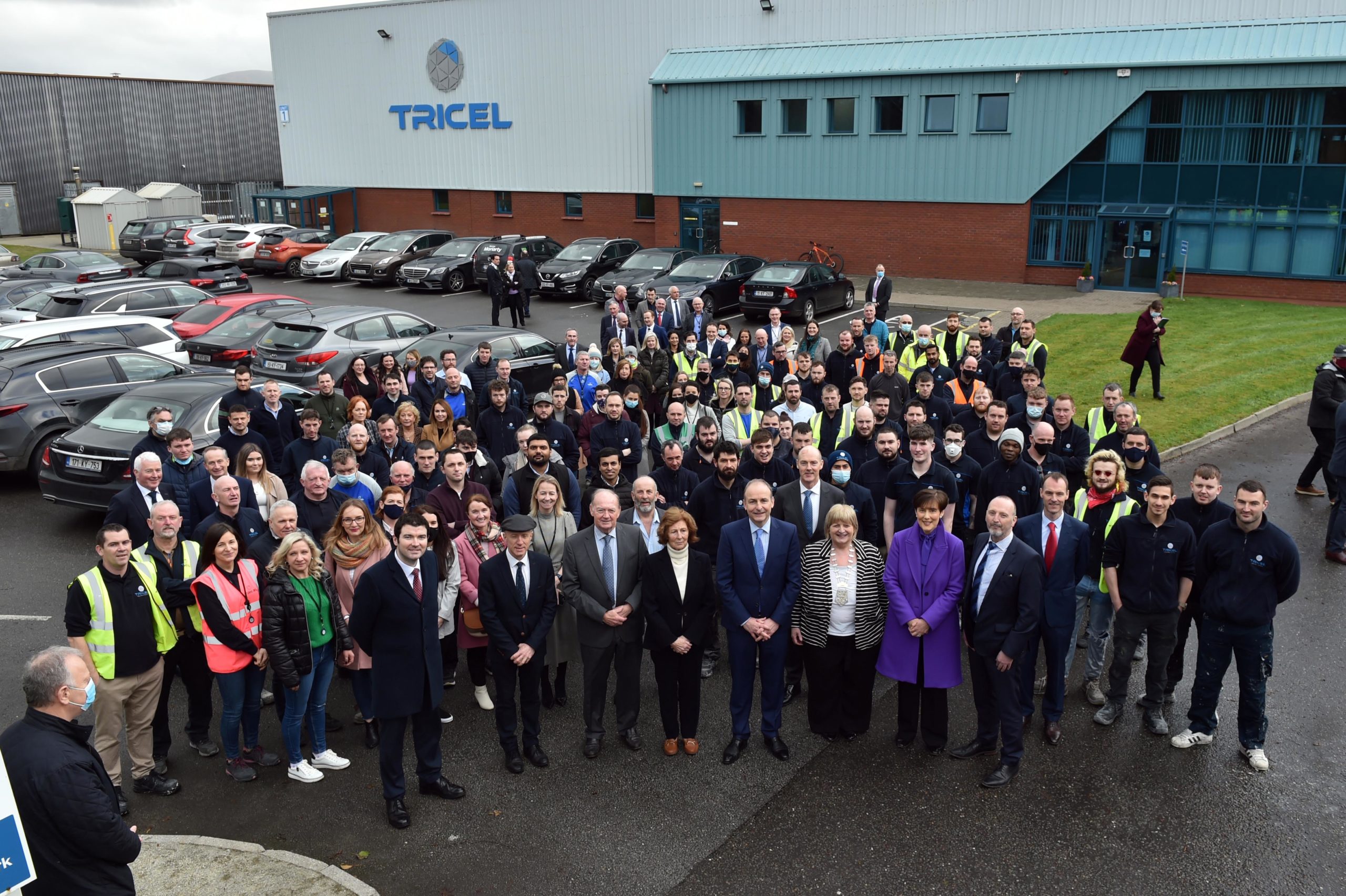 Taoiseach visits TRICEL headquarters in Killarney.
While the past two years have been challenging for all businesses worldwide, the resilience and strength of Tricel staff allowed us to continue to supply to our customers. In many cases, these products and services were essential – supporting expansion projects for hospitals, defence forces, care homes, and manufacturing sites supporting the increase production of ventilators.
Despite these challenges, we continued to focus on our growth plans and grew our headcount in Killarney by over 20%. As a significant employer locally, we will continue this focus on recruitment, with plans to increase our headcount by over 200 in the coming year. Since January 1st 2022, we already have 35 positions currently being advertised across our sites."
Enterprise Ireland, CEO Leo Clancy said;
"Tricel is an excellent innovation-led Irish company that has implemented state-of-the-art technology to remain competitive in global markets. The company's continued success and expansion demonstrates that there are great opportunities for Irish companies in the transition to a low-carbon and environmentally sustainable economy. We are delighted to support Tricel and congratulate the entire team on their achievements to date."
SEAI, CEO William Walsh said;
"I congratulate Tricel for their significant decarbonisation achievements, making them an exemplar of climate leadership in industry, demonstrating their commitment to the Killarney community. The works at Tricel are part of a €5.5 million project which received €1.66 million through SEAI's Government funded community energy grant scheme. Ongoing government support in large scale community energy projects is central to achieving our climate action ambitions and targets. To achieve this, SEAI works with over 600 communities nationwide, providing them with the knowledge and the means to plan their own ambitious low-carbon pathway, and SEAI can see the benefit of more and more businesses and communities working hand in hand to help each other on their decarbonisation journey."
Enerpower Managing Director, Owen Power said;
"Enerpower are passionate about pushing the boundaries in sustainable self-sufficiency for the commercial and industrial sectors and we are very proud to have worked on behalf of Tricel to deliver this combined Solar PV and Heat Pump project. Solar energy has become one of the cheapest sources of electricity generation and this combination of self-generation with heat pump technology protects Tricel against future energy price increases while also reducing their carbon emissions. Tricel now produce their own electricity whilst also generating their own form of heat. Enerpower is delighted to have worked on this project and helped Tricel fulfil their sustainability goals."
About Enerpower:
Enerpower, a Waterford based company, founded in 2005 is focussed on helping businesses to transition to renewable and sustainable energy resources. Enerpower are the industry leader in energy efficiency and renewable technologies, delivering some of Ireland's largest projects utilising Solar PV, Heat Pumps, Biomass Boilers and Wind Turbines. The Enerpower team has extensive industry experience with a proven track record in project management and bringing energy savings to businesses nationwide.  Enerpower believe that by focusing on renewable energy resources, businesses will save money on heating and energy and reduce their impact on the environment.